Croatia Airlines and Carwiz International sign business cooperation agreement!
Croatia's national airline and the fastest growing Croatian car rental company have joined forces to provide additional benefits to passengers!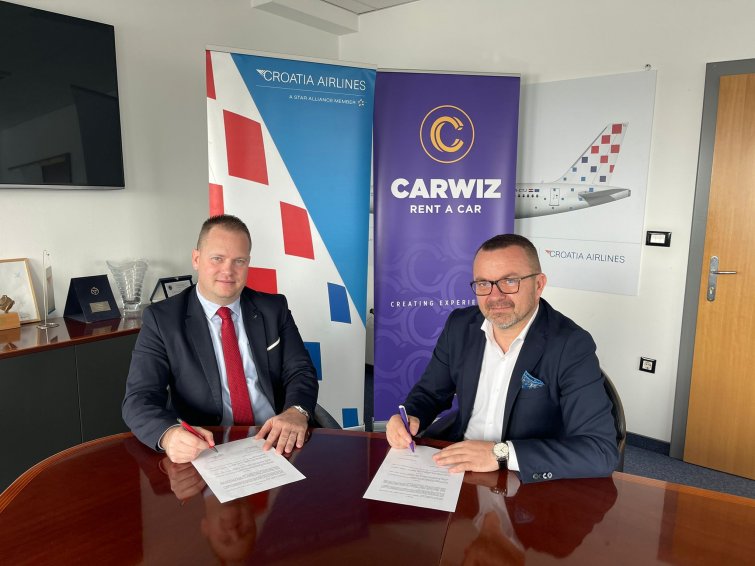 Zagreb, March 18, 2022 – Croatia Airlines, the country's national airline and a Star Alliance member, and Carwiz International, Croatia's fastest growing car rental company, signed a business cooperation agreement today under which users of both companies will benefit from the additional value, making travel to your desired destinations easier and more accessible.

This collaboration has resulted in the joint product Fly & Drive, which will undoubtedly benefit both leisure and business travellers, as Croatia Airlines and Carwiz International will ensure a worry-free journey on both fronts.

The Fly & Drive program will ensure the highest quality of service with attractive prices and a 15% discount on both car rental services and airline ticket prices.
During the signing of the agreement on business cooperation, Croatia Airlines' Director of the Commercial Divison, Slaven Žabo, stated:
 "We are especially pleased that our previous initiatives have opened new doors in the minds of successful Croatian businesses, thereby improving Croatia's tourist and economic offer. Croatia Airlines, as a strategically important component of Croatia's transportation infrastructure, has been connecting Croatia with the most important European capitals and Croatian regions for over 30 years, in collaboration with airline partners and passenger associations. We now connect ground to air, and we are excited to provide passengers with an even more comprehensive service in collaboration with a reliable partner, providing transportation to their desired destination.
Krešimir Dobrilović, Director of Carwiz International, pointed out:
"This cooperation is in line with Carwiz International's efforts to provide all of its customers with the best possible travel experience. I believe that our business cooperation is mutually beneficial and that the additional benefits created by two strong Croatian companies will result in customer satisfaction, which is the priority of joint cooperation."
Croatia Airlines and Carwiz International are important stakeholders in Croatia's transportation infrastructure, and their presence and quality coverage in the air and on land will provide passengers in Croatia with top quality and travel experiences that are easy to use and affordable, making Croatia an even more desirable destination.