Gastronomy
Istrian cuisine
Embraced by the sea with freshly caught fish, what is the Istrian region without good food and drink?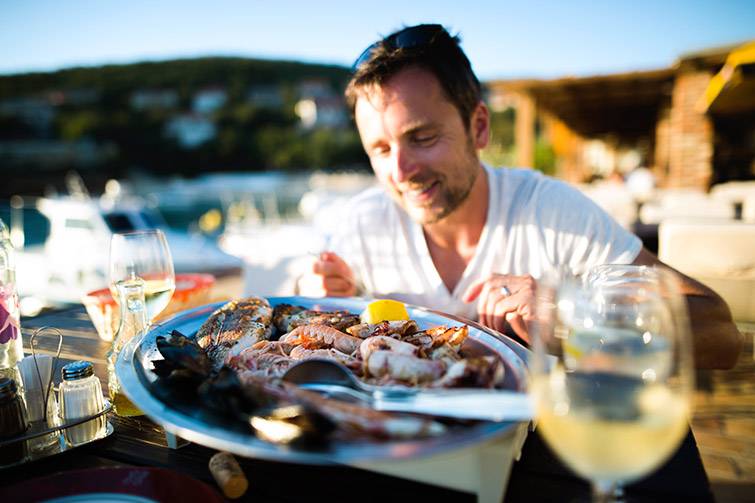 | | |
| --- | --- |
| Where? | Istria and Primorje, the islands of the northern coast. |
| When? | For breakfast, lunch and dinner. |
| Be sure to try: | cheese, ox steak, scallops, pasta, pljukanci, truffles, Istrian Malvasia, salted pilchard, fritters, sweet ravioli with figs. |
If you landed in Pula, and would like to sail through the charming Istrian towns, rent a van, roam the hills, climb in one breath to Motovun or wander down to the smallest town in the world Hum.
You are not out of gas, but you need your gastro fuel?
Every corner of Istria offers the magic of taste and first-class delicacies. Try scallops or kapešante as we call them, mussels with melted cheese, or treat yourself to ox steak, traditional Istrian beef.
If you like pasta, Istrian pasta you will love. Dumplings and pasta are your choice, and you will find them on the menus of all Istrian taverns.
However, for hardened gourmands in the "Istrian cookbook" there is only one word - truffles - underground mushroom with a very special and intense flavour - which are believed to have aphrodisiac powers, and are used to prepare cheeses, various spreads and oil.
Any good evening in Istria begins and ends with songs and laughter, but also its gastronomic gem, smoked ham. And since Istrians are always on time in picking enough grapes and preparing quality wine for the next season, it is unavoidable to try their excellent wine, usually cold malvasia, Teran, or muskat, known for its exceptional flavour, golden colour and wonderful scent, which goes ideally with desserts.
Take your GPS and enter the address of one of the famous wine cellars that are an experience in themselves, or go to the waterfront and enjoy the fresh delicacies from the sea, salted anchovies, shrimp, squid and mussels at one of the traditional fishermen's festivities.