The most challenging and humane year is behind us
Take a look at our summary of 2020
Celebrating the big 1700 rounds around Earth made with Carwiz vehicles in December of 2019, we didn't expect for 2020 to be so different.
We welcomed 2020 with enthusiasm and with smiles on our faces. We had big business plans, many of which were nearly realised, best of them being attending the world's greatest travel shows in Las Vegas, Berlin and London.   
Our plans, like many others', were disrupted by COVID-19, an unknown virus which forced the whole world into lockdown in a matter of weeks.
Change in strategy, fear for our loved ones, our employees and clients became our daily routine. We were the first ones on the market to provide a solution – additional disinfection of all our vehicles, special covers for the driver's seat, steering wheel and gear stick.
Soon we introduced contactless vehicle pickup, ensured the possibility of working from home and called upon our customers to stay home and be responsible. To encourage other employers to follow our lead, we paired up with our franchise partners and launched the "Stay home" campaign.
Additionally, we supported our clients to adjust to the "new normal".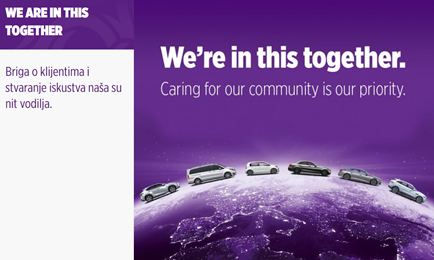 Despite the challenges we faced,  Carwiz worked tediously on developing a new business strategy and new partnerships. Our hard work was recognised and resulted in a new partnership in the Czech Republic.
To be able to answer our clients' every need, we offered vehicles from all categories – from small town vehicles to vans to ensure safe travel to work and other unavoidable activities. Through all our ventures we demonstrated that we are responsible and know how to act in unpredictable times.
Thanks to the healthy business environment, good relations and professional conduct we managed to expand our franchise to ten of the most attractive tourist destinations in Greece.
The very end of the year was marked with even harder challenges. We suffered from an earthquake, which brought a lot of damage to Petrinja, Sisak, Glina and other surrounding areas. Our employees once again showed their big hearts by volunteering; they teamed up to deliver food, clothes and shoes all while helping those affected by the earthquake.
2020 has taught us a lot of things, especially that with the right people, only sky is the limit. At Carwiz, we're ready to face brand new challenges and travels in 2021, because after all, we love creating safe, new experiences!