Destinations
Plitvice Lakes National Park
There are seven world wonders and Croatia has one - the Plitvice Lakes.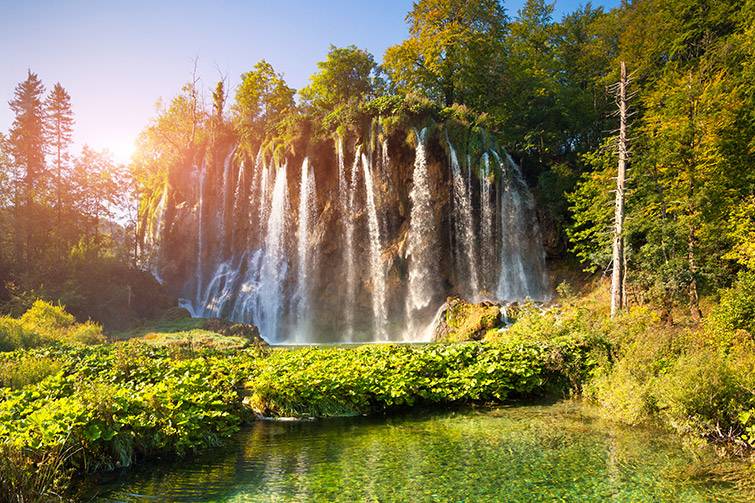 | | |
| --- | --- |
| Climate and temperature:  | summer temperatures between 15 and and 20 degrees, and in winter the average temperature is two degrees, the lakes are frozen usually in December and January, there is most rain there in the spring and fall. |
| Ticket prices:  | one-day ticket 55 to 180 Kuna's, depending on the month and the season, children and groups (minimum 15 people) are eligible for discounts. |
| Must see: | a boat ride on Lake Kozjak, the highest 78 meters' waterfall "Veliki Slap", educational hiking trail Medveđak, tobogganing Mukinje, lunch in Lička kuća, sightseeing via panoramic train, attractive waterfall "Small Prštavac". |
This natural phenomenon has its magnificent beauty spread out in the mountainous part of Lika, on the border of Mala Kapela and Plješevica and was once called "Vražji vrtal"". According to legend, the Black Queen, after a long drought had mercy on the land and rained down water to the ground. The remaining water created 16 pearl, turquoise lakes, and numerous smaller connected cascades and rustling waterfalls, the biggest attraction of the park, which is under protection of UNESCO since 1979.
Regardless of the calendar, the faces of Plitvice are unforgettable, so it is no wonder that more than a million visitors pass through it every year.
To fully experience the unique collision of stone and vegetation, water and lake plants, power and nirvana, rent a van or an off-road vehicle and set off on a day trip with your friends or family.
Parking awaits you at the entrance, while decorated wooden bridges and marked coastal paths will take you into nature (along ten kilometres), which transforms in front of your eyes time and time again, with more than a 1000 different plant species, of which as many as 50 species of orchids, 321 species of butterflies and 157 species of birds.
A 'chance meeting' with one of the many animal species is possible, as well as traces of paws of the most famous inhabitant of the park, the protected brown bear. An electric-powered boat that takes you across the lake Kozjak offers special visual and acoustic experiences, while those ready for adventure, can rent a wooden rowboat.
Electric buses operate around the park and transport you to starting or sightseeing points. One of the mandatory stops is the highest waterfall in Croatia, 78 meters high, which springs from the limestone rocks. Plitvice with its magnificent sights, will fill your camera with magnificent photos, but the fulfilment and contact with untouched nature, will fill your soul and will not leave you any time soon. Have you already booked your rent-a-car?